Lift Up Tape Slim (Taping For Cosplay) 5M Volume Tape Only
*Convenience* What is a compare list?
Add the products you want to compare to the list, and you can see only the products you added to the list on the list page.
For assisting lift-up and fine adjustments!
-Ideal for assisting lift-up!
● Clear and colorless and inconspicuous!
● You can stick firmly even on the makeup!
● Skin-friendly material used for medical purposes!
● You can sharpen the outline of your face!
-You can reproduce hanging eyes and big eyes!


★Protective gel before applying tape
Taping Protective Gel (Hadamamoritai AS)
★Remover when removing the tape
Tape Peeling Liquid AS (Hagasuno tasuketai)
Features and usage of lift-up tape
This is an introduction to the features and usage of lift-up tape.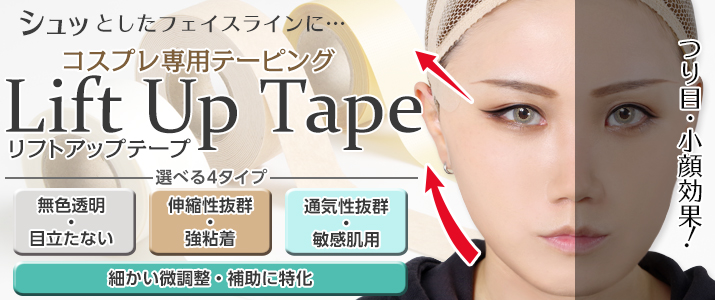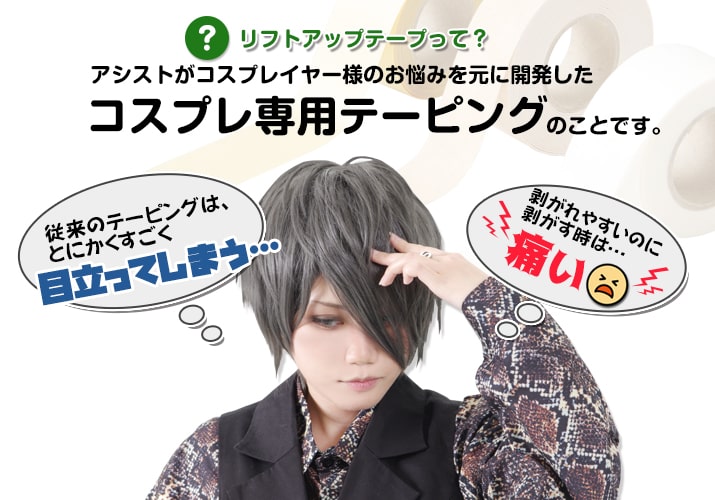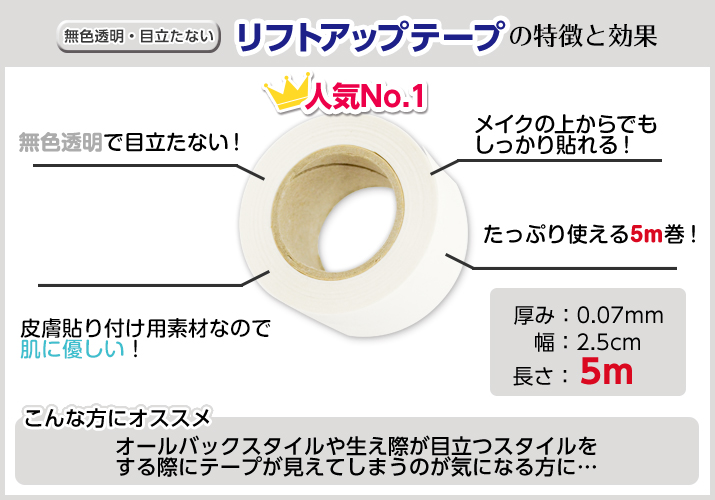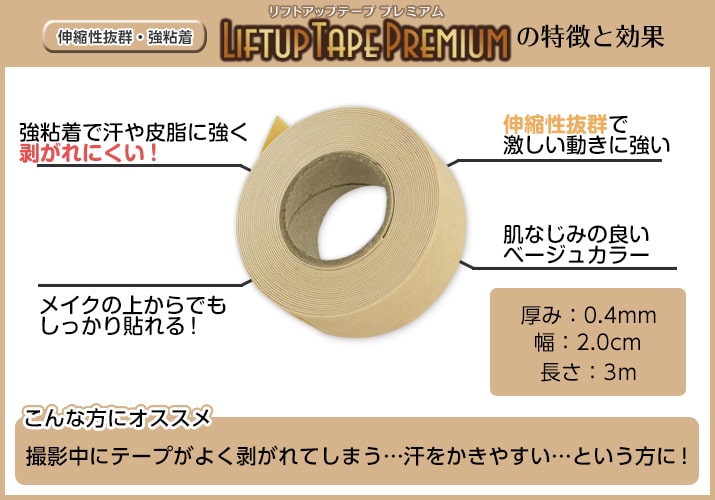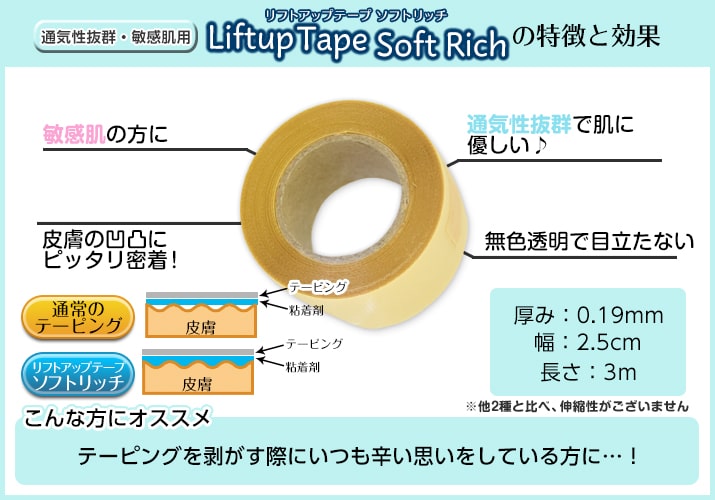 Product introduction video
How to apply lift-up tape
This video introduces how to use lift-up tape to make your face line look refreshed and how to make your eyes look bigger.
| | |
| --- | --- |
| Product ID | 25478 |
| JAN(EAN) code | 4573353687915 |
| Material | Polyethylene film, acrylic adhesive for skin application, release paper (single-sided release treatment) White |
| Color | Colorless and transparent |
| Size | Length: 5m, Width: 1.5cm, Thickness: 0.07mm |
* Please do not put it on a place other than the skin
* Gently and slowly peel off so as not to damage the skin.
* If you experience a rash, itchiness or irritation during use, discontinue use immediately and consult a dermatologist.
* Do not use this product for more than 24 hours continuously as it may cause a rash.
* Do not use if you have a specific constitution or if you have had an allergic reaction such as a rash with a similar product in the past.
* Do not use on infants.

【how to use】
① Lightly wipe off the oil on the skin where the tape is applied.
② Peel off the cut tape about 1 cm from the edge.
③ Stick the tape on the skin where you want to lift up, and then gradually pull on the tape to stick.
④ Finally, fix the end of the tape with a wig net with a hairpin etc. to further improve the effect.
◆ When peeling off the tape, gently peel it off so as not to damage the skin. It will be easier to remove it if you apply an oil-based cleansing agent.

USER'S VOICE