★ Assist Original ★ Lift Up Tape Slim (Taping for Cosplay) 5m Volume tape only
Product name
★ Assist Original ★ Lift Up Tape Slim (Taping for Cosplay) 5m Volume tape only
For assisting lift-up and fine adjustments!
-Ideal for assisting lift-up!
● Clear and colorless and inconspicuous!
● You can stick firmly even on the makeup!
● Skin-friendly material used for medical purposes!
● You can sharpen the outline of your face!
-You can reproduce hanging eyes and big eyes!


★Protective gel before applying tape
Taping Protective Gel (Hadamamoritai AS)
★Remover when removing the tape
Tape Peeling Liquid AS (Hagasuno tasuketai)
| | |
| --- | --- |
| Material | Polyethylene film, acrylic adhesive for skin application, release paper (single-sided release treatment) White |
| Color | Colorless and transparent |
| Size | Length: 5m, Width: 1.5cm, Thickness: 0.07mm |
* Please do not put it on a place other than the skin
* Gently and slowly peel off so as not to damage the skin.
* If you experience a rash, itchiness or irritation during use, discontinue use immediately and consult a dermatologist.
* Do not use this product for more than 24 hours continuously as it may cause a rash.
* Do not use if you have a specific constitution or if you have had an allergic reaction such as a rash with a similar product in the past.
* Do not use on infants.

【how to use】
① Lightly wipe off the oil on the skin where the tape is applied.
② Peel off the cut tape about 1 cm from the edge.
③ Stick the tape on the skin where you want to lift up, and then gradually pull on the tape to stick.
④ Finally, fix the end of the tape with a wig net with a hairpin etc. to further improve the effect.
◆ When peeling off the tape, gently peel it off so as not to damage the skin. It will be easier to remove it if you apply an oil-based cleansing agent.
After checking the variations, please enter the quantity and put it in the shopping cart button.
Features and usage of lift-up tape
This is an introduction to the features and usage of lift-up tape.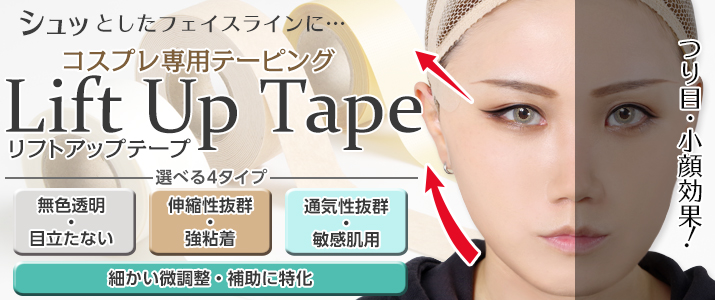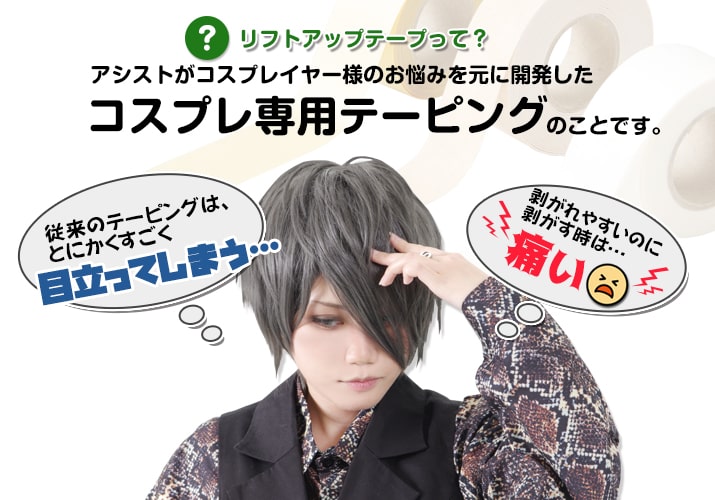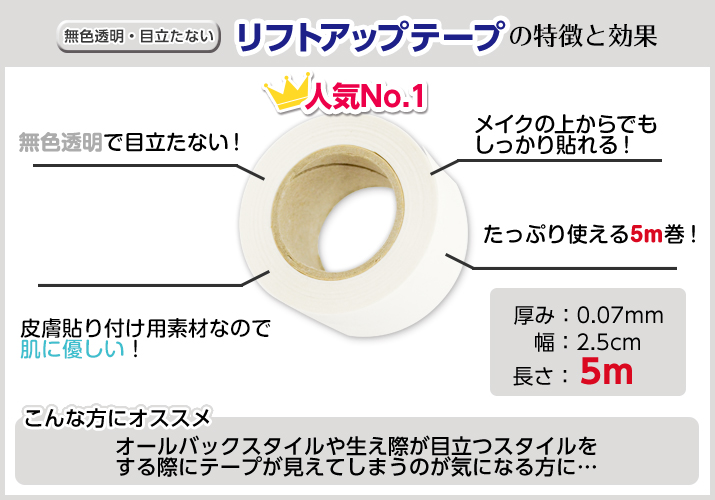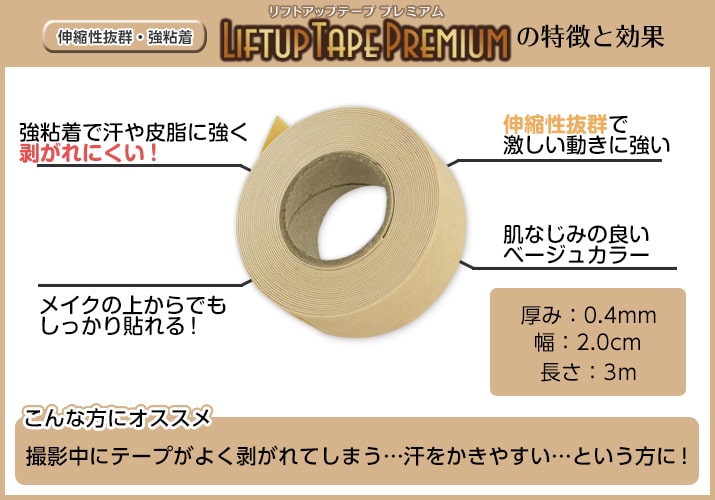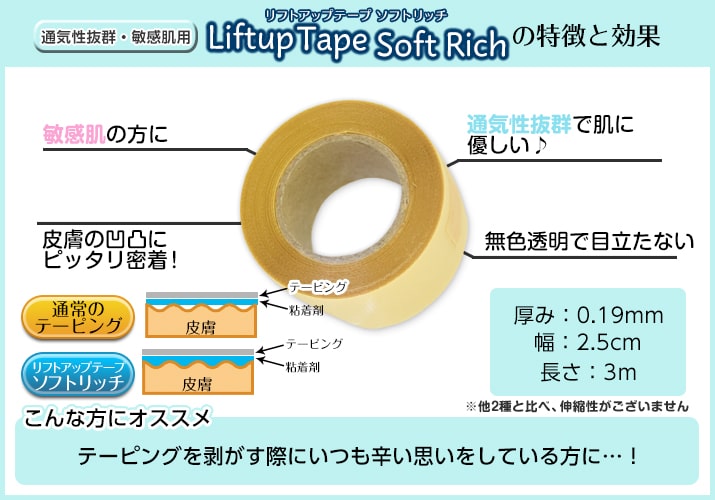 Product introduction video
How to apply lift-up tape
This video introduces how to use lift-up tape to make your face line look refreshed and how to make your eyes look bigger.
Category recommended items