Character wig BROTHERS CONFLICT Azusa
Product name
Character wig BROTHERS CONFLICT Azusa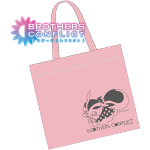 Purchase benefits
Assist wig original design (with julie illustration) with non-woven fabric tote bag.
Nonwoven bag size: 38 cm × 35 cm
BROTHERS CONFLICT licensed official wig
※ The bangs, we are not using styling agents. Pictures are taken with the front part separated.
※ This character wig will not be returned or exchanged. Please note.
There is a possibility that there are some set collapse at the time of transport ※. Please fine-adjust after delivery of goods.
▼ Notes ▼
This item is out of stock, will be reserved items. If you order another item at the same time, it will be shipped simultaneously, so please be forewarned. In addition, there is a possibility that the shipping schedule date will go around somewhat depending on the arrival time of the item.
We are very sorry, but we are not currently handling it.
Category recommended items