★Melty Coco★Bang wig "see-through bangs" now available!!

2022/11/01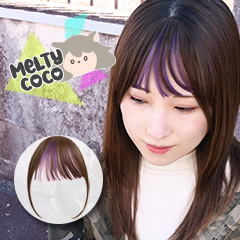 The fashion wig "Melty Coco", which is very useful for everyday use and after events.
A bangs wig that can be easily used on your natural hair
°˖✧"See-through bangs" 8 new colors ✧˖°
Make your everyday life even more colorful!
You can easily reproduce the trendy bang color ♡
From the popular
♢ ash color ♢
,
Kawaii
♡ Idol Colors ♡
!
"The color of my bangs fades quickly..."
Even those who gave up!
Please enjoy everyday fashion with "see-through bangs" ♡
Check details and colors here °˖✧