Shiny Edge 1Day New color release commemoration campaign holding!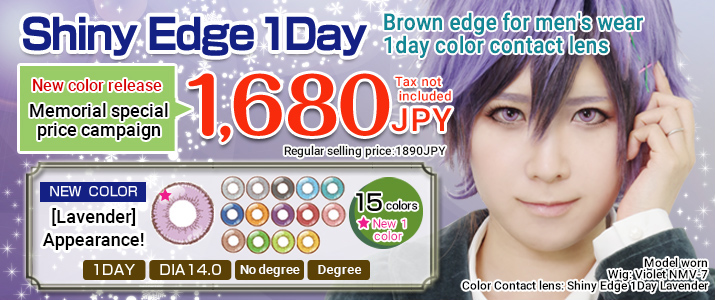 "Assist ChouChou"

is
an original Colored Contact Lenses brand of
any "Assist Wig" cosplay equipment handling.
Assist ChouChou

Shiny Edge One Day

Series
Three major points of Colored Contact Lenses

Finally develop the best color control
specialized in men's clothes
by lowering the effect to
make your eyes look bigger!
The contact lens DIA (diameter) 14.5 mm
finally solves the troubles of male attire cosplayers
that the eyes look big and they become too cute!
DIA: 14.0 mm is
adopted to specialize in men's clothes, realize a stylish
and cool design that is not too cute!
Comparative photograph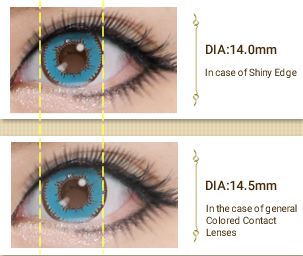 I realize the best super coloration
that is familiar with the design and adapts
to every eye!
By making it Brown edge every eyes,
super coloring that shines in the scene is realized!
Also, I was sticking to the utmost to the appearance
with the assist design choshu original design
that is optimal for cosplay!
CATALOG
Dandelion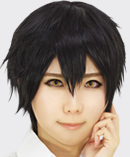 I also stuck to the coloring in camera shooting and the presence of men's presence!
Ramune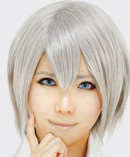 It can also be used for
cool beauty type female characters!

Cosplay industry first! Clean and secure.
I developed
a 1Day Colored Contact Lenses outstanding to wear!
It's 1Day (disposable)
so it's always clean and safe.
It is a strong friend of Cosplayer
who is worried about hygiene of color contact!
Also, like 1 Month
after all it was a waste not to waste · · ·
such troubles are solved as well!
Solve such troubles! Because it uses only as much as you want when you want to use
is also gentle on your wallet!
Chou Chou's charm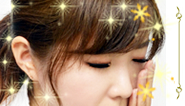 Because it is a one-day (disposable), cleanliness and safety.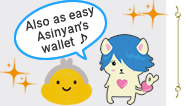 I just want to use it when I want to use 10 boxes of 10 pieces! So it is also gentle on your wallet!
It is a safe and secure Colored Contact Lenses
Only selling Colored Contact Lenses approved
by the Ministry of Health, Labor and Welfare.
In Japan, Colored Contact Lenses are designated as advanced medical management equipment by Ministry of Health, Labor and Welfare. Assist ChouChou sells only Colored Contact Lenses that have been approved by the Ministry of Health, Labor and Welfare in Japan.

Shiny Edge 1Day
Color lineup